ProThoughts Solutions: On How To Make a Winning Plan For PMP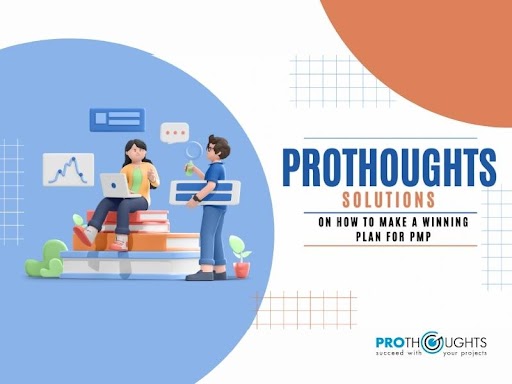 We are regularly asked by students for a suggested study schedule for the PMP certification. The capacity and strength of learning and understanding is different in every student which is why we find it challenging to recommend a strategy that is effective for everyone. However, we are offering some general advice in this article to help out students who are just beginning their training. This strategy should assist you in getting ready for the PMP exam in roughly a month or two. The plan must be modified according to you to fit your circumstances, requirements, and learning preferences.
Introduction to PMP
A Guide to the Project Management Body of Knowledge (PMBOK Guide) serves as the foundation for the PMP test. The PMBOK Guide should be read, studied, and understood before anything else (don't try to remember it). It serves as the cornerstone for PMP test preparation and exemplifies the breadth and complexity of the subject addressed. It cannot be emphasized enough that in order to pass the exam and comprehend how to do project management tasks, you must have your own project management experience and expertise but only as they relate to the information in the PMBOK Guide.
Although the PMBOK Guide serves as the cornerstone and foundation for the exam, passing the test depends on applying the guide's concepts to actual project settings.
There are numerous ways to be ready, but one of the best is joining a chapter. These people are eager to offer their knowledge and expertise on how to prepare for the PMP exam and pass it.
ProThoughts Recommendations for Studying
The PMBOK Guide, and the Agile Practice Guide, both of which are available for free with PMI Membership, are required in order to pass the new PMP exam. You might also take the well-known, no-cost PMP practice exams that are accessible online on our website. However, the complete list of your required resources provided by ProThoughts Solutions is given below.
Rita Mulcahy Learning Solutions
Michel Thiry
PMBOK Guide
Free PMP exam simulator available on ProThoughts
Mock Test
The Scrum Guide
Agile Practice Guide
Now let's move on to your study plan
1 – A brief summary:
Get a fast rundown of the structure and content of the PMBOK Guide before you begin using the ProThoughts study material.
Read through the PMBOK Guide quickly to familiarize yourself with its layout first. The 49 Project Management processes, 10 Knowledge Areas, and 5 Process Groups should all be familiar to you. You should also be able to comprehend that processes frequently overlap and that each process has ideas, skills and methods, and outputs.
2- Advanced Analysis:
Read the entire contents of our online Pmp Study Guide. You can move on to the next stage without reading the Agile part right now. As you proceed, use the ProThoughts for, Quizzes, and Flashcards to enhance your learning. Try your hand at the quizzes and flashcards for each new knowledge area.
3- Knowledge of Agile Concepts:
Examine the Agile Practice Guide. It's a quick read with roughly 190 pages.
Scrum terms, including ScrumMaster, Sprint,  Product Owner, and others, may be used on the PMP Exam. So it's critical to have a foundational knowledge of the Scrum Methodology. Fortunately, you can become familiar with Scrum's fundamentals in only two hours. Check out the Scrum Guide. A clear and useful explanation of the Scrum framework is provided. You can also go through the Agile chapter of our online study guide to understand every agile idea you require for the exam.
4- Attempt it out:
This is the perfect opportunity to confirm your knowledge. Test your understanding by taking our Pro Mock online exams. To find the gaps, go over every question, especially the ones you got wrong. Use the tools and study guide once more to fill in any gaps.
5 Reconcile everything:
Review your notes, take part in online discussions, and attempt more and more free online examinations to become more confident.
We trust that this article has given you a clear understanding of how to approach your preparation. Happy learning and good luck on your certification exam!
Lastly, we are always there to assist you
Join ProThoughts Solutions if you are studying for the PMP or PGMP certification to greatly increase your chances of success. According to the PMP Exam Curriculum Outline, all of our PMP content has been updated. And apart from it we are also allied with Udemy. We offer all of the study materials, practice tests, flashcards, quizzes, tools, formula guides, and contact hours you'll need to pass the test. With our approach, you'll be able to ace the PMP certification exam with less time spent studying and a stronger foundation in project management.